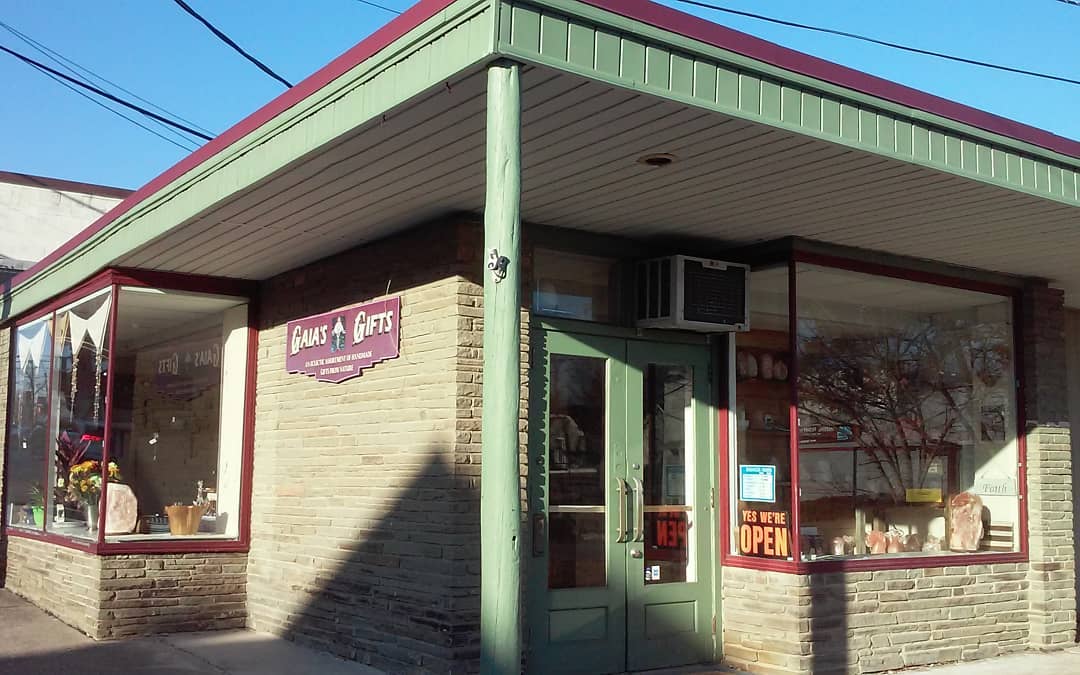 Home
Gaia's Gifts is your local gift shop of unique hand crafted items and tools for your spiritual growth, the gift for You.
---
MAY Crystal of the Month: Green Apatite
Green apatite improves empathy and communication.
Spiritual: Green Apatite is a merry stone that promotes extroversion and a desire to be of service to others. It is a stone for happy inspiration and powerful manifestation. It gives us strength and hope to pursue our dreams, even when times are difficult and the path forward seems daunting. Green Apatite helps us to laugh more and repels any darkness that tries to linger around us. It heals and expands our aura. It brings health and vibrancy to our spiritual life. Green Apatite loudly promises us that we can live rich and exciting lives, right here and now. It is attuned to the Heart.
Green Apatite helps to channel energies that heal the Earth.
Emotional: Green Apatite is one of the best stones to carry to encourage a vibrant life. It helps reverse feelings of apathy, irritability, and emotional exhaustion. It gives us joyful permission to pursue our many passions without guilt or shame. It also encourages creativity, variety and spontaneity. Green Apatite is particularly useful for helping us with feelings of being "unworthy" of love and attention. It reminds us to invest in healthy relationships where we can get our needs met. It also helps us to feel comfortable spending money on self-care and fun activities.
Mental: Green Apatite refuses to let us play the victim and teaches us that we have power. At the same time, Green Apatite reminds us that our government and society is playing its own financial game that can negatively affect us, even if we personally do everything "right". When we follow the rules and still lose, Green Apatite helps us to not take it personally or give into despair. Apatite offers us hope for a better future and a willingness to work hard and be part of the solution.
It encourages generosity of spirit.
Physical: Green Apatite is used by metaphysical healers to help with stress-related illnesses. It is also used for anything involving the physical heart. Because of its hopeful energy, Green Apatite is good for anyone who needs to keep their spirits up while recovering from a major illness or injury. It helps us to celebrate each tiny victory in our healing journey.
A great stone to work with "right now"!
---
May 1st - Beltane
The Slow Healing Has Begun
On April 27th - businesses that sell items for worship and promote spirituality Can Open!!!
Gaia's Gifts NEW "PART TIME" HOURS
Thursday - Friday - Saturday
You can still text me: 908-303-3734, email me: perkins145@comcast.net or message me on the Gaia's Gifts Facebook page to set up an appointment to pick up items.
I am not your regular brick and mortar store and I will not be your regular on-line shopping experience. If coming out is hard for you right now and there is something you are looking for, this is shopping in a new and different way.
Message me what you are interested in and I will get back to you pricing and photos.
Laurel is offering "Crystal Visions" - information on each of the crystals we have in the shop. We will intuitively choose the crystal and ship to you.
Thank you for your continued support of Gaia's Gifts!
---
Reseller of Himalayan Salt Lamps, cotton tapestries, woven blankets
* Hand made Jewelry and Orgonite (search the internet for the many benefits of wearing and having it nearby)
* Garden of One Flower Vibrational Essence Mists - for clearing you and your space
CBD Products by Garden of One
NEW FROM Garden of One: Immune Defence & Viral Defence Spray. Use to spray on your face like a toner, spray on your mask before and after going into stores
* Hand-crafted Leather mojo bags * Feather earrings * Dream catchers * Divination tools : pendulums, tarot and oracle cards & smudging supplies * Fiber Art * New and Used Books * hand poured organic soy candles * herbal teas * ceramic mugs * Amber jewelry for baby and adult * Wall Art
The "Crystal Bar" - a wide variety of tumbled and raw stones available
​"BUCKIES" Eye or Neck Pack - for those aches & pains, can be used Hot or Cold, outer cover removable for easy washing, add your own essential oil, special pricing for "set".
Hand Hooked Rugs by Blessed Be Rug Designs​
Yoga Inspired Blank Greeting Cards
18k gold sacred geometry healing symbol
OVER 100 Rough & Tumbled Crystals​​​
* Always a Free crystal with every purchase​​​​​​​
* Stop by for a unique affordable gift for yourself or a friend *
​​​​​​​
Help me Relight The Realm​​