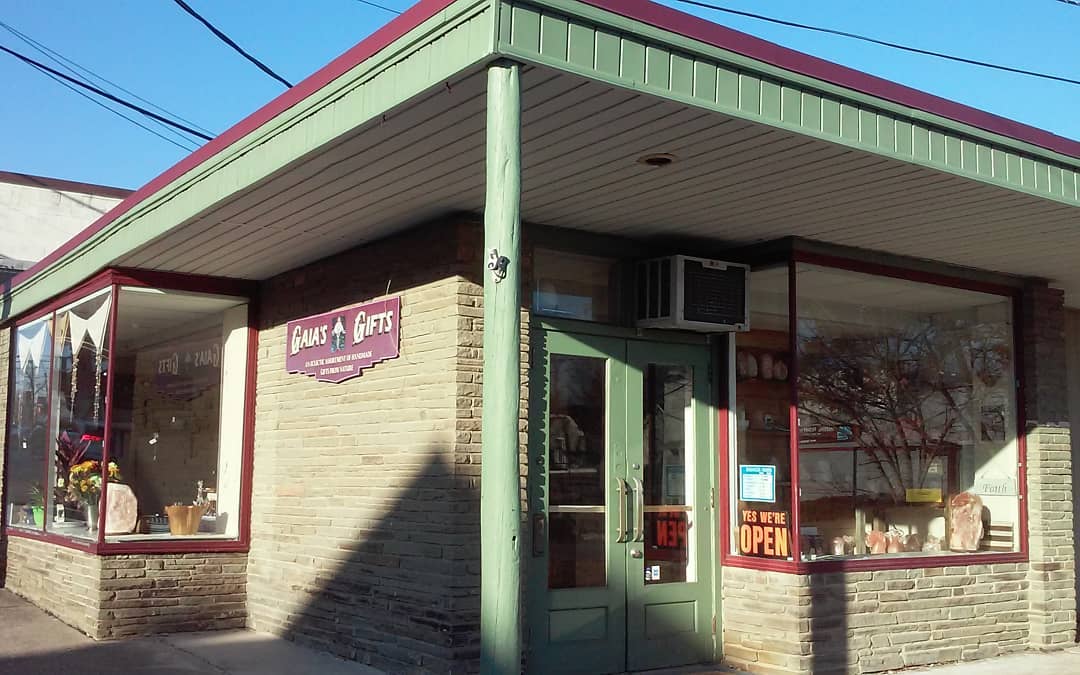 Home
Gaia's Gifts is your local gift shop of unique hand crafted items and tools for your spiritual growth, the gift for You.
---
Gaia's Gifts NEW LOCATION in 2019
I am excited to announce my new location, a much larger, brighter retail space and added workshop/ Qigong/ Healing room.
2019 will bring more workshops and featured pop-up artist/vendors who contribute to Gaia's Gifts.
The Zen Garden at Gaia's Gifts is complete! What is the Zen Garden? It is the space to hold workshops, classes and also a place to sit and "be". If you need a quiet moment during the day, pull up a mediation cushion, close your eyes and feel you stress melt away for the time being. There is a reason certain experiences are called "for the time being" - it's being in the now and only now.
I am creating an email list to get the word out on upcoming classes and events. If you would like to be added, please let me know.
Samantha will be offering massage, craniosacral therapy and raindrop technique sessions, on the first and third Monday & Tuesday of the month. The shop is closed on those days so you will be guaranteed a relaxing session. Samantha's treatment room is in the Zen Garden with her own private bathroom. Sessions are scheduled directly with her through email: sperkins.massage@yahoo.com or
April 6 - Deeper Experience into the Chakra Energy Flow
April 12 - Goddess Dance Moving Meditation
April 19 - Crystal Singing Bowl Meditation
April 20 - Readings by Cheryl, Oracle or Palm
April 25 - Raising Your Level of Deserve
April 27 - Arts Crafts & Sweets Festival in the Borough
Shop Guest Lynn Cote with her hand sewn bags & buckies
May Events
May 3 - Deeper Experience into the Chakra Energy Flow
May 5 - Conversation with Crystals
May 10 - Conscious Relationships
May 12 - Readings by Cheryl, Oracle or Palm
May 17 - Crystal Singing Bowl Meditation
May 19 - Introduction to Healing Touch
May 25 - Past Life Regression
For detailed information, go to event page or call the shop 908-223-1331
---
Store Hours
Wednesday, Thursday: 11 - 6 pm
Closed Monday & Tuesday
---
Reseller of Himalayan Salt Lamps, cotton tapestries and scarves, woven blankets
* Original furniture - book shelf, potting table, wall spice rack (all can be custom ordered for color and size) by Quality Primatives of Smithville Flats, NY
* Hand made Jewelry and Orgonite (search the internet for the many benefits of wearing and having it nearby)
* Garden of One Flower Vibrational Essence Mists - for clearing you and your space
* Hand-crafted Leather mojo bags * Feather earrings * Dream catchers * Divination tools : pendulums, tarot and oracle cards & smudging supplies * Fiber Art * New and Used Books * hand poured organic soy candles * ceramic mugs *forged fire pokers with hand crafted wood handles * Amber jewelry for baby and adult * Wall Art
The "Crystal Bar" - a wide variety of tumbled and raw stones available
​"BUCKIES" Eye or Neck Pack - for those aches & pains, can be used Hot or Cold, outer cover removable for easy washing, add your own essential oil, special pricing for "set".
Hand Hooked Rugs by Blessed Be Rug Designs​
Jamie Sawyers Lenormand & Tarot Decks
Nannie's Chakra Tea
Yoga Inspired Blank Greeting Cards
18k gold sacred geometry healing symbol
OVER 100 Rough & Tumbled Crystals​​​
* Always a Free crystal with every purchase
---
---
Healing Touch is an Energy Therapy in which the practitioner consciously uses their hands in a heart-centered, intentional way to support and facilitate emotional, mental, physical and spiritual health and healing. Please plan 1-1/2 hours for check-in, post discussion & questions.
Appointments are scheduled for Sundays, Mondays and evenings.
---
Now in "Natural Awakenings" Magazine
(Somerset-Middlesex-Hunterdon & S.Warren Co. Edition)
* Stop by for a unique affordable gift for yourself or a friend *
Help me Relight The Realm​​