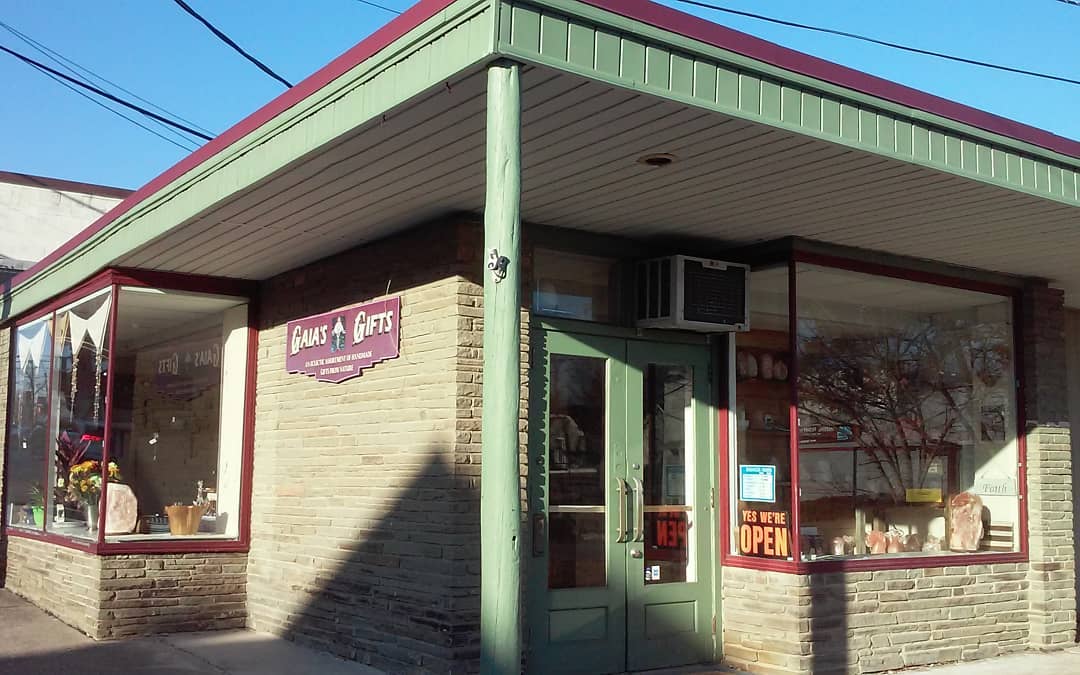 Home
Gaia's Gifts is your local gift shop of unique hand crafted items and tools for your spiritual growth, the gift for You.
---
November Crystal of the Month: Moonstone
These lovely moonstones came from Moonstone Beach in Rhode Island. Yes - there is an actual beach full of them, along with other beauties of ocean tumbled milky quartz, smoky quartz, and sparkly mica in matrix. Each of the moonstones showed me their "flash" before being put in my bag. The fresh air, the meditatative sound of the waves, the sand on my feet - I love the whole experience.

So Moonstone properties: Helps with intuition: seeing without physically seeing. Great for dream work, keeping a piece near your bed to help remember your dreams and for help to understand them. The reflective nature, like the moon, helps you recognize the cycles of change. Moonstone is filled with receptive, passive, feminine energy, it balances male-female energies. Also opens the mind to recognize synchronicities and serendipity. Beneficial aid to deep emotional healing, relieveing emotional stress and anxiety, insomnia and sleepwalking.

adapted from the Judy Hall "Encyclopedia of Crystals"
What's New at Gaia's Gifts???
Since covid19, we have had to stop using the Zen Garden for classes and workshops so.....we have extended the shop! We put up a new tapestry display, to start.
Will continue to rearrange until it feels just right.
JUST ADDED: Wednesday. 11 am - 5 pm
Thursday - Friday - Saturday
Please text
908-303-3734, email me: perkins145@comcast.net or message me on the Gaia's Gifts Facebook page for any questions and requests.
I am not your regular brick and mortar store and I will not be your regular on-line shopping experience. If coming out is hard for you right now and there is something you are looking for, this is shopping in a new and different way.
Message me what you are interested in and I will get back to you pricing and photos.
Thank you for your continued support of Gaia's Gifts!
---
Gaia's Gifts would like to welcome our new vendor's products
Nature's Design creates water bottles and carafes that use the fibonocci sequence to restructure the water to it's original state, allowing your body to use water as nature intended.
Tweenfontein Herb Farm grows and creates tinctures, elixers and salves for health and wellness. It is the season for Elderberry Syrup which is now available.
Lavender hand and body lotion, well...because we have to wash our hands so much, this healing lotion goes on smooth and smells heavenly.
Reseller of Himalayan Salt Lamps, cotton tapestries, woven blankets
* Hand made Jewelry and Orgonite (search the internet for the many benefits of wearing and having it nearby)
* Garden of One Flower Vibrational Essence Mists - for clearing you and your space
CBD Products by Garden of One
NEW FROM Garden of One: Immune Defence & Viral Defence Spray. Use to spray on your face like a toner, spray on your mask before and after going into stores
* Hand-crafted Feather earrings * Dream catchers * Divination tools : pendulums, tarot and oracle cards & smudging supplies * Fiber Art * New and Used Books * hand poured organic soy candles * herbal teas * ceramic mugs * Amber jewelry for baby and adult * Wall Art
The "Crystal Bar" - a wide variety of tumbled and raw stones available
​"BUCKIES" Eye or Neck Pack - for those aches & pains, can be used Hot or Cold, outer cover removable for easy washing, add your own essential oil, special pricing for "set".
Hand Hooked Rugs by Blessed Be Rug Designs​
Yoga Inspired Blank Greeting Cards
18k gold sacred geometry healing symbol
OVER 100 Rough & Tumbled Crystals​​​
* Always a Free crystal with every purchase​​​​​​​
* Stop by for a unique affordable gift for yourself or a friend *
​​​​​​​
Help me Relight The Realm​​